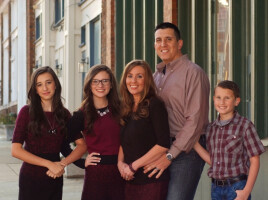 Phillip Pinkston
Pastor
Email:

Phillip and Priscilla Pinkston and their 3 children, Brooklyn, Bethany, and J.T. came to Goodman Road Baptist Church in 2009. He served as youth-pastor for 5 1/2 years and in January of 2015 became the senior pastor of GRBC. Since then, God has blessed the church with both numerical and spiritual growth. Our pastor believes there is no greater joy than to be a Christian and to get the privilege to serve Jesus Christ! He is a family man and whole heartedly practices a balanced approach to ministry by putting the Lord first while emphasizing the home. The Pinkston's all serve the Lord together as a family in many different capacities. Our pastor truly loves people from the babies in the nursery to the senior saints in our church family. He desires a close relationship with everyone in our church family.
Pastor Pinkston's love for our church as well as the City of Horn Lake and our surrounding community is evident through his personal, practical preaching and his vision for the future of our church.
Our pastor would like to personally invite you to come and be a part of our wonderful growing church family!