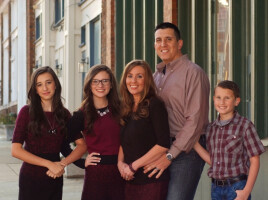 Phillip Pinkston
Pastor
Email:

Phillip and Priscilla Pinkston and their 3 children, Brooklyn, Bethany, and J.T. came to Goodman Road Baptist Church in 2009. He served as youth-pastor for 5 1/2 years and in January of 2015 became the senior pastor of GRBC. Since then, God has blessed the church with both numerical and spiritual growth. Our pastor believes there is no greater joy than to be a Christian and to get the privilege to serve Jesus Christ! He is a family man and whole heartedly practices a balanced approach to ministry by putting the Lord first while emphasizing the home. The Pinkston's all serve the Lord together as a family in many different capacities. Our pastor truly loves people from the babies in the nursery to the senior saints in our church family. He desires a close relationship with everyone in our church family.
Pastor Pinkston's love for our church as well as the City of Horn Lake and our surrounding community is evident through his personal, practical preaching and his vision for the future of our church.
Our pastor would like to personally invite you to come and be a part of our wonderful growing church family!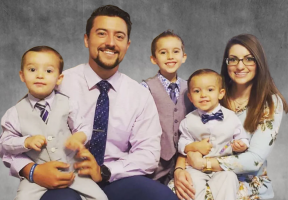 Colby Clay
Youth Pastor
Email:

Colby Clay has spent his entire childhood and adult life at Goodman Road Baptist Church. He met his wife, Erica, in January of 2010, shortly after her brother-in-law and sister - Pastor Pinkston and Mrs. Priscilla - came to the church. Colby and Erica were married in April of 2014 and now have three sons - Corbin, "The Twins" Camden and Cayden - and a fourth son on the way (May 2021).
Colby and Erica have been involved with the youth of the church since they were married and officially came on staff at GRBC as Youth Pastor and wife in August of 2019.
After an 8-year career in law enforcement, God called Colby into youth ministry. Colby has a heart for teenagers, and it is his desire to see this younger generation catch fire for the Lord! Colby teaches Teen Sunday School class and leads the Teen Discipleship class on Wednesday nights. Erica also teaches 7-11 year old Sunday School and assists in the JR Discipleship on Wednesday nights.
Bro. Colby and Mrs. Erica would love to have the opportunity to minister to the heart of your young person through the teachings of the Word of God.