Regular services
A nursery is provided for all regular services. Our nursery caregivers provide a clean and safe environment for our tiniest church family and visitors. Parents can have peace of mind while they attend one of our Sunday School classes and any worship service.
Lil' Sprouts Club
Newborn – 2 Years
Our Lil' Sprouts Club has simple activities and lessons to help introduce Bible teaching even to the smallest of our church family. They have illustrations and lesson times that are designed just for them.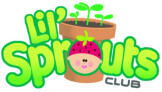 PeeWee Church
3 – 4 year Old
Your little ones will love PeeWee Church as they meet together during the Sunday morning service. This ministry gives children structure and preparation as they cycle through a morning of learning memory verses, singing, games, Bible lesson, snacks, and fun filled PeeWee fellowship.
Our PeeWee Church workers have many years of experience working with children in both Church Ministry and Kindergarten Christian School environments.